EAPFP 2021 AGM – 18/19 November, Madrid
On the 18th and 19th November, the EAPFP and its members gathered in Madrid to hold 2 days of meetings.
The venue for the meetings was the AC Hotel by Marriott Carlton Madrid.
The first day of meetings focused on:
Elections and appointments –
Niall Rowan gave an update on the the status of the president role within the EAPFP and noted that he had been acting as president since M. Smolka resigned at the start of the year. As such, the meeting formally appointed him as President.
This left the role of Vice Chair open. The meeting appointed Roy Weghorst to the position.
As it stands, the executive board is now formed by the following:
Niall Rowan – President
Roy Weghorst – Vice President
Joric Witlox  – Past President
Andrew Taylor – Technical Officer
Kees Both – Technical Officer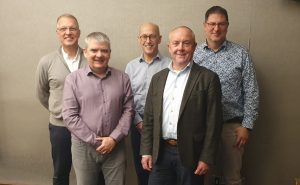 The meeting then moved on to cover the financial report and membership report.
Following the official annual general meeting items, the meeting heard from the organisations within the EAPFP who each gave their reports. The reports were substantial and it  was great to have so many updates from organisations. As such, the first day of meetings closed following the reports.
Attendees then met in the lobby of the hotel for a drinks reception before making their way into central Madrid for a drink and finally onto their final destination: Restaurant Botin.
Restaurant Botin was founded in 1725, and is the oldest restaurant in the world according to the Guinness Book of Records and a benchmark of Madrid's best traditional cuisine. Guests enjoyed an array of starters before the main attraction of the main course arrived: suckling pig.
Suckling pig is a key dish at Restaurant Botin and considered a delicacy. Needless to say it was a great hit with our guests!
Following the dinner, guests were treated to a tour of the wine cellar beneath the restaurant. The narrow and dark cellar was home to many bottles of dust covered wines. Guests took special note of the old fashioned sprinkler system that adorned the stair cases and parts of the cellar.
Day two – 19/11/2021
After breakfast, EAPFP members met once again in the conference room at the hotel for the final day of meetings.
The agenda for the 2nd day was as follows:
EAPFP strategic issues
Technical Officers report
Installation Survey Update
Training
Code of Practice for PFP construction products
Member State Engagement
Strategy:
EGOLF
Fire Safe Europe
CEN
EOTA
Fire Information Exchange Platform
European Fire Safety Alliance
EU Commission
PR & Marketing
Membership and finance
Secretariat report
Finance Report
EAPFP membership fee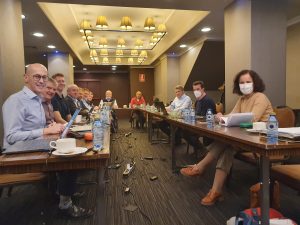 Following the meeting, guests enjoyed a 3-course lunch at the hotel before departing.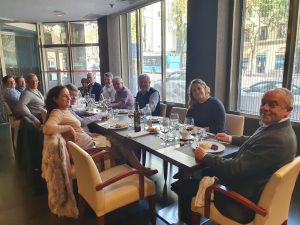 It was fantastic to see such a positive turnout for the first face-to-face event that the EAPFP have been able to hold following the pandemic.
We certainly hope that this can continue and we will be holding more face-to-face events in 2022.