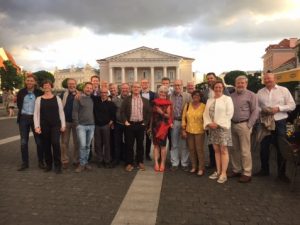 The European Association for Passive Fire Protection (EAPFP) is calling for a greater focus on competence and training for passive fire protection installers and is campaigning for mandatory requirements for both products and installers to be regulated through certification and registration schemes. 
During two days of discussion at the Association's latest meeting in Vilnius Lithuania on 23-24 May, EAPFP members investigated the main concerns and activities within each state to identify where progress could be made by sharing knowledge and experience at a pan-European level.
EAPFP members highlighted the quality of installation as a key concern and outlined a number of initiatives under way across Europe which aim to improve installer training and qualification and encourage certification. Members also highlighted increasing support for training, certification and registration schemes from national governments, with legislation expected in several states.
Training programmes for passive fire protection installers were identified in the UK, Ireland, Spain and the Netherlands; while formal certification and registration schemes are being introduced in Ireland, Denmark and the Slovak Republic. New legislation is expected in Ireland and the UK, while, in the Slovak Republic, a pilot project for a new national legal requirement to use approved installed fire-rated constructions is under way.
In Ireland registration of all main and specialist sub-contractors, introduced by the Building Control (Amendment) Regulations in 2014, is expected to be made mandatory in coming months. While, in the UK, the Grenfell fire has resulted in long-term reviews of the whole system for specification, design, approval and installation, with an expectation that revisions to the Building Regulations may call for greater evidence of installer competence and mandatory certification of passive fire protection products and installers.
Commenting on the meeting, EAPFP President Joric Witlox declared:
'Having identified poor installation as a key area of concern across Europe, EAPFP members are now sharing best practice as they develop training and certification schemes which aim to ensure installation quality improves throughout the built environment.
'The EAPFP is now actively campaigning for the certification and registration of installers to be mandatory across Europe and calls on all passive fire protection installers to undergo formal training. As a minimum, installers are encouraged to join a third party certification scheme and the EAPFP will campaign for membership of such schemes to be mandatory.'
The EAPFP acts as the European voice for passive fire protection. EAPFP members are national associations representing manufacturers, contractors and other institutions involved in passive fire protection. Members meet twice each year to discuss issues affecting the European fire industry.
For further information on the EAPFP, visit www.eapfp.com; tel: +44 (0)1420 471616; e-mail: admin@eapfp.com