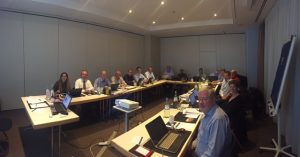 European Association for Passive Fire Protection (EAPFP) members, representing some eleven countries across Europe, met in Munich, Germany on 29-30 November to discuss the Associations aims and objectives for the coming year.
During two days of wide-ranging debate the delegates looked in detail at the main concerns and activities within each state to identify where progress could be made by sharing knowledge and experience and through campaigning at a pan-European level.
The delegates highlighted influencing standards and regulation as key to improving levels of passive fire protection in buildings across Europe. They declared that setting the highest possible standards and requirements for products and installers, as well as educating society about the vital role of passive fire protection is key to improving fire safety in the built environment. They also saw tackling the misuse of fire safety engineering to reduce levels of fire protection, particularly passive fire protection, as a key campaigning issue.